The Company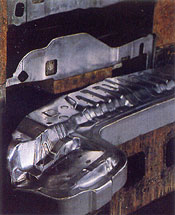 The chromium plating of cast iron car body press dies, universally practiced in Japan, was not readily available in Europe until the successful conclusion of DMI(UK)'s technology transfer agreement with Koka Chrome Industries in 1989. Europe's largest chromium plating specialists, DMI(UK) is now providing all the improvements in quality control and cost reduction inherent in this process to most of the major European car manufacturers.
Many automotive manufacturers have invested in tri-axis transfer presses which demand continuous operation. DMI chromium plating contributes to the efficient use of these high capital cost machines by reducing lost press time due to draw related problems.
In 1995, DMI(UK) and Koka Chrome Industries (Japan) established DMI Automotive Inc, located in Howell, Michigan to provide this service to the North American market.